Update enhanced win animations!
---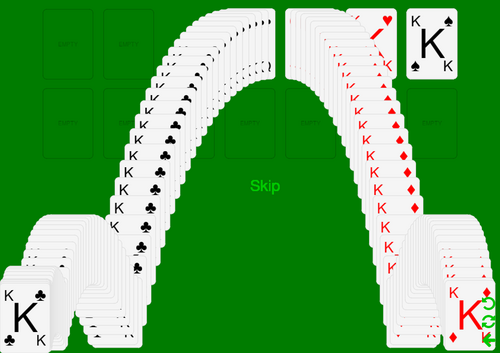 I am happy to push this out. Not only does the win animations look way betterand their performance is dramatically improved. But I have also fixed a bug and an annoyance with winning a game.
First off when you won you couldn't skip the win animation this is the anoyance that has been fixed with a Skip button. I might move it from center screen but it is there. Also when the win animation finished the game would not just start a new game for you. It actually had the deck ready but never dealt or did anything after that state. This too has been fixed and after the win animation is over or you skip the animation a new game will be dealt for you automatically.
I have also enhanced my ability to release versions with a consistent version number between the itch releases and the android play store ones. This makes me a happy game developer! That statement also makes me happy. I'm proud to share my creation with all of the other great games on itch.
Ah it's the little things in life that make you the most happy!!!
Happy Solitaire!
Files
solitaire-0.10.11_all.deb
672 kB
Mar 30, 2018
solitaire-macosx.zip
4 MB
Mar 30, 2018